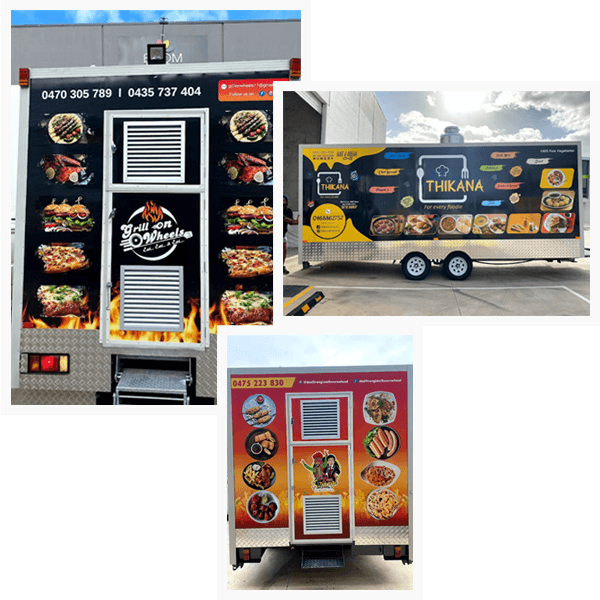 Bloom Graphics specialises in vinyl wraps and signs for food trucks. We produce food truck signage that promises to hold people's attention by combining clever design with attractive images. One-off Window hatches, doors, numerous vents, and power inlets are all addressed and worked into the design from the beginning. Since food truck wraps cover the entire vehicle, it is important to use intelligent designs that are both eye-catching and feasible without compromising on quality.
Having a specialised in-house design team is a huge benefit since it allows us to expedite the process and save you big bucks and hours of time.
Attract hungry customers with Food Truck Wrapping!
Custom car wraps are without a doubt one of the greatest and most successful methods to distinguish your company and captivate potential consumers with dazzling and distinctive branding imagery. 
We can design eye-catching bespoke vehicle wraps for your car, truck, trailer, bus, motorbike, boat, or van, ranging from simple yet elegant to colourful and intricate patterns. Our talented designers can create sophisticated, engaging vinyl car wraps in full, partial, and spot graphic designs that will make a powerful and personal statement while you're on the road.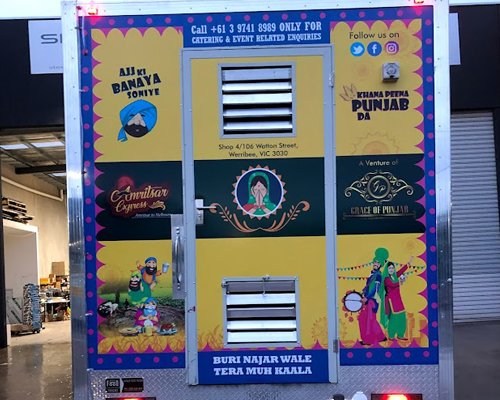 Guaranteed customer service
Experienced and professional squad
In-house design services
Superfast print service
Why do you need Food Truck Wrapping and Food Truck Signage?
Food trucks are a company that relies heavily on brand awareness; thus, vehicle wraps are a must! Hundreds of people will be aware of your presence with just a glimpse if you use food truck wraps. Display your menu or images of your unique cuisine directly on your truck to tempt your clients' taste buds.
We're in the midst of a food truck "phenomenon!" in Melbourne and the surrounding areas. Food trucks are quickly becoming one of the favourite attractions as patrons seek out delicious, unique foods…often for the first time! With rapid growth, as well as the abundance of outdoor concerts, festivals, and other events, food trucks are quickly becoming one of our favourite attractions as patrons seek out delicious, unique foods…often for the first time!
Wrapping a food truck is far less expensive than painting a vehicle. They are easier to change out and maintain, and they may be changed out more frequently. Your packaging may be modified fast and simply to suit any changes to your menu or items. 
Unlike painting, car wraps may be laminated and available in a range of finishes, including matte, gloss, and even reflective. These solutions draw attention to your brand and make it appealing to all those prospective buyers!
Why shop for Food Truck Wrapping and Food Truck Signage from Bloom graphics?
We can outfit your food truck with custom-cut vinyl signage, complete digitally printed wraps, or spot graphics to create spectacular vehicle signage, whether you have a single truck or a fleet. Our skilled graphic designers can develop unique lettering and graphics to match your brand and vehicle.
Collaborative and Customised Work
We make it simple to work with us. We understand that your company is unique; thus, your marketing solutions should be as well. We prioritise your requirements and objectives. We collaborate with you to create a plan that is tailored to your unique marketing goals. We provide businesses with the tools, resources, and solutions they need to stand out from the crowd, thanks to our collaborative approach.
On-the-go, in-style with Food Truck Wrapping!
Have you ever driven past a cool-looking food truck and been tempted to look at the menu just because of the design? You're not the only one who feels this way. The majority of people's first impressions of your car will have a direct bearing on whether or not they desire to stop and consume your cuisine. That's why having an enticing vinyl wrap that keeps customers coming back for more is important.
A custom vinyl vehicle covering is an excellent way to customise and sell your food truck. Wrapping your food truck with a visually appealing design lets potential consumers know what to anticipate when they visit for a bite to eat. With a high-quality vinyl wrap, your food truck will stand out among the throng.
Do you want to advertise your food truck, trailer, automobile, or other vehicles with a wrap? We can assist you! Our professional and experienced team of designers and installers can create a one-of-a-kind aesthetic for your restaurant or company that will stand out!