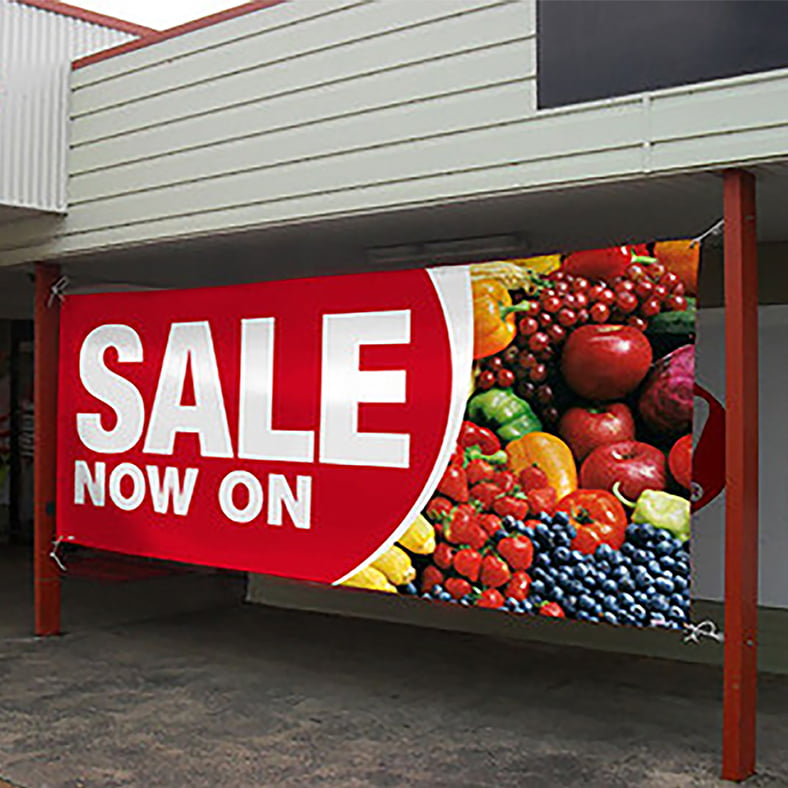 OUTDOOR VINYL BANNER WITH WELDED EDGES & EYELETS
For roadside advertising, outdoor PVC Vinyl Banners with weld edges & eyelets give you the opportunity to create a large-format promotion that passers-by will absorb in an instant. For event banners, they provide a focal point that tops off your occasion and creates a fantastic photo-opportunity.
PVC Banner printing from Bloom Graphics offers you a great range of size options — all the way up to 5m by 2m for a truly monumental message.
Our banner material is hard-wearing, weatherproof and resistant to fading. Made from thick, flexible PVC, these printed banners will keep your message in great shape — indoors or outdoors — in the long term.
Outdoor Vinyl Banners – An Affordable and Durable Advertising Method
When it comes to planning on expanding the business growth, advertisements via banners play quite an essential role. These banners, used by a wide range of businesses, creatively and effectively, convey the most relevant messages regarding sales, promotions, events, and discounts to the already existing or potential customers.
Vinyl banners – the most inexpensive and commonly used advertising method as compared to television and print media – separate you from the competition. Grabbing the crowd's attention is easy with these eye-catching and strong banners that are durable and weather-resistant.
Why outdoor vinyl banners?
From tiny stores to celebrated multiplexes and restaurants, car washes to bus stations, private enterprises to public firms, these outdoor vinyl banners can be seen everywhere across the city. Alterable and customizable as per seasonal demands, fashion trends, places and demography, the banners help you run a business in a completely dynamic environment. 
Made of blackout vinyl that can handle climate changes like strong winds, rain and snow, the outdoor banners can withstand all of this without tearing, fading, or otherwise showing any damage. On the other hand, indoor banners are made of scrim vinyl, which won't tolerate the harsh sun or weather. 
What outdoor vinyl banners from Blooming Graphics has to offer?
Unlike other advertising methods such as, print, radio, and TV, which would want you to break your bank, our vinyl banners will probably help you save a considerable amount. With minimum expenses, a high impact can be expected. Printed on heavy-duty vinyl, these weatherproof banners will not dent easily, making them an excellent option for outdoor usage. The non-porous aspect of these banners further increases their longevity.
To display an effective and influential message, Bloom Graphics offers a PVC banner printing with weld edges and eyelets that too in different sizes. Pick any design, font or colour, the customization facility allows you to have control over your advertisement content and the freedom to display any idea that you have in mind. Do not compromise with the dynamic nature of the market, as it helps your business to survive. These banners come with a high-resolution matte finish – ideal for artificial lighting as well as sunny conditions.
Featuring bright signage that will attract eyes from near and far, these outdoor vinyl banners are sure to make an impression. Our intention is to make passers-by notice your brand; we strive to offer the best possible options that can strategically project the information of your business to the masses.
Use of high-quality material
We use sturdy materials that are resistant to tearing and are weatherproof. Made from UV-resistant ink that prevents fading even in excessive sunny conditions, these outdoor vinyl banners make us the leader in the Australian banners and signs industry.
Easy to install and Clean
Featuring grommets and essential hems that are needed for installation, these outdoor vinyl banners can be effortlessly set up using plastic ties or rope. Moreover, cleaning and dusting is not an issue, all you need is a mild detergent and water.
Outdoor vinyl banners for maximum turnaround
Pick the best location:

The placement of the banner must be such that it is visible even from a distance. The famous spot will make sure your business advertisement garners enough eyes, which will further act as the profit booster. 

Impactful information:

The banners must include crucial information such as name, address, contact details, in order to get an improved and rapid output.

Design:

The right design which is appealing and creative, has the potential to attract customers, so choose your layout after careful consideration.