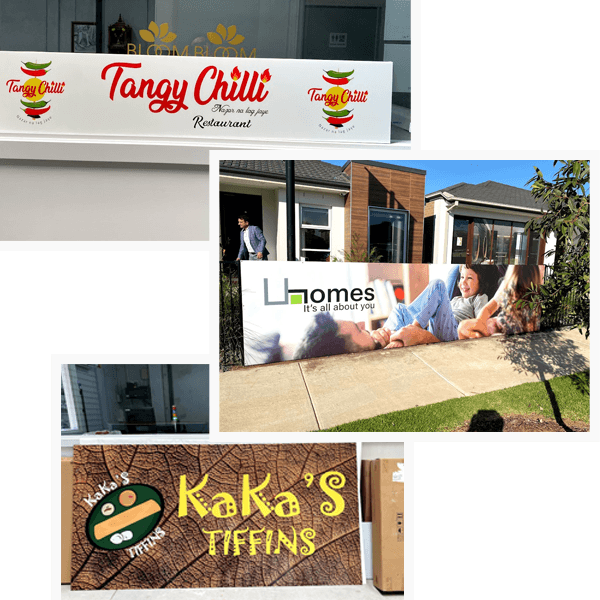 Invest in Banners and Let Them Do the Advertising
Advertising comes at the core of every business and at the core of advertising comes banners. Catering to the banner printing needs of all of West Melbourne we are Bloom Graphics, a team dedicated to offering you the best banner printing services in the industry. From traditional vinyl-cut banners to banners printed on different fabrics using modern printing technologies, we are known to deliver the best. May it be a traditional horizontal banner, a pull-up banner, a teardrop banner, a feather banner, or a pop-up one that meets your advertising requirements, we craft it all beautifully with our holistic banner printing services.
Outdoor banners or indoor ones, durability is an essential feature for both and at Bloom Graphics, we know that well and therefore use only the best materials. We incorporate the best fonts, catchy slogans, designs, and graphics, to print for you the kind of banners that would be both informative and aesthetically pleasing.
Use the windows, doors, outdoors, and the entire space of your shop/company as a canvas for advertising with our banner printing services.
A Banner For Every Occasion With Bloom Graphics
Banners to lead your regular advertising campaigns, banners to spread the word about a promotional event or special offers, banners to represent your business, whatever the purpose that you wish to fulfill, we specialize in creating banners fit for them all. We are an experienced and skilled team of professionals and we adopt the best equipment and practices in the industry to craft for you a pixel-perfect banner. From design, graphics, color, size to the material used, everything will be of your choice and we will be there throughout the project to guide you at each step to ensure that your vision comes alive with the banners we make.
Your need for banners could be many, to meet these different needs we print banners fit for every occasion. If you have an event at hand, a conference, corporate meeting, sports events, in-store promotions/campaigns, product launches, or any event that you can name, we will properly consider your needs and first recommend and then design and print a banner echoing the theme of the occasion/event.
So, curate for your brand, banners of all shapes and sizes with Bloom Graphics.
Bloom Graphics, Your Best Pick For Banner Printing in West Melbourne
Banners stand at the front of any advertising or promotional campaign and we ensure that this front piece is eye-catchy and clearly describes your intent. We know that the banners are not just for show but to put forth the vision of your brand and educate all your potential costumes regarding your brand's unique selling points. Knowing this, we deliver only the best and therefore are your best pick for banner printing services in West Melbourne.
1. We are an expert team with experience in creating banners of all kinds and scales and therefore are a name that you can entrust with all your banner printing needs in Melbourne.


2. We believe that work done on time is work done well, so you can trust us at Bloom Graphics with all your immediate banner printing needs.


3. We have experience of working under strict schedules, so lesser time would never mean an inferior quality of work.


4.Our custom vinyl banners printing services would never burn a hole in our pocket as we offer the best services on a budget.


5. We don't believe in a one-style that meets all policies. We will give proper consideration to your specific requirements and bring variations in style, material, and design to create banners of your choice.
So, contact us today, print banners, and with it the vision of your brand for the world to see.